Mangli Age, Height, Husband, Wiki, Bio & More
| | | | |
| --- | --- | --- | --- |
| Age | Stage Name | Real Name | Height |
| 27 years | Mangli | Satyavathi Rathod | 5'6'' |
Mangli Quick Facts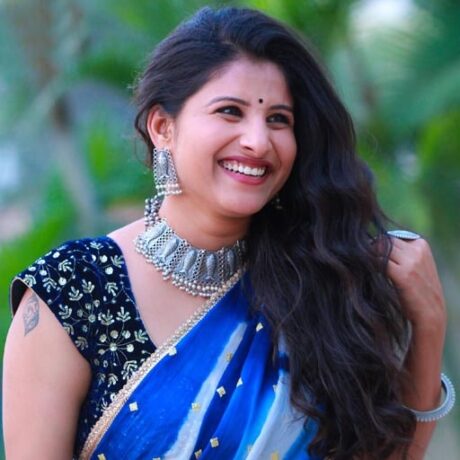 Biography/Family
Popularly known as Mangli, Satyavathi Rathod is an Indian singer, actress and TV presenter. She is recognized majorly for her traditional Banjara look and attire and famous for her incredible work in Telangana songs and remarkable performance in various festivals and events centring on typical occasions of the country. We would hear most of her performances in Telegu as she is most renowned for her Shivratri songs and Ramuloo Ramulaa.
Her outstanding performance and inclination, and love for folk world music have given her a prestigious position in the music industry quickly. At a very ripe age of just 26, she has earned her own identity in the overcrowded music industry.
Career/Education
Born on 10th June 1994 to a Banjara family of Anantpur, Andhra Pradesh, India did start her life in a very simple manner when no one knew about her boundless capacities to shine in the field of music. She did her studies from Bhartiya Vidya Bhavan school and college from SV University in her town and showed a special interest in songs and music from her childhood.
Her family backed her immensely in this passion and inspired her to a great extent in pursuing a career in music and singing. At a very young age, she started performing and very soon earned a name of fame for her dazzling works. In this journey, her parents have been the strongest pillars of support and major contribution towards her successful career to date.
She was raised by her parents with the utmost care, along with her two other siblings. Mangli passed her childhood in Anantpur and later moved to Hyderabad for the advancement of her career. Mangli still holds a single status and is yet to get married and settle in her life. She takes pride in keeping her personal life secret and does not like revealing any information regarding her love life or relationship.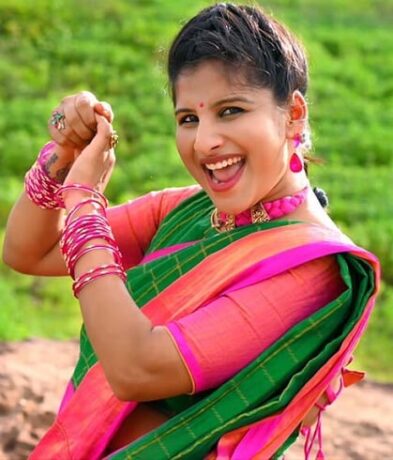 Family/Songs
Her career started very early when she took to performing in local shows in her town and started taking education on Carnatic music. In 2013, Mangli got her first career break with her performance in the Dasera festival ' Dhoom Dham' on V6 News, a Telegu News Channel. Side by side to the same channel, she also worked on another sarcastic show named 'Teenmar News'. With this show only, the simple town girl Sathyavathi came into the limelight with her new stage name 'Mangli'.
She received huge fame for her brilliant work, along with Savithrakka and Bithiri Sathi. With this, the audience and music lovers of the nation started realizing her potential, and she started working in the MIC TV channel, and her full-fledged career as a TV anchor and singer took off. Currently, she hosts a special TV show named ' Mangli Muchata' wherein she interviews renowned actors and personalities from the entertainment industry. She is now a permanent host for festivals like Telangana Formation Day, Bonalu and Bathukamma. It is her face that also appears on the official YouTube channel of MIC TV.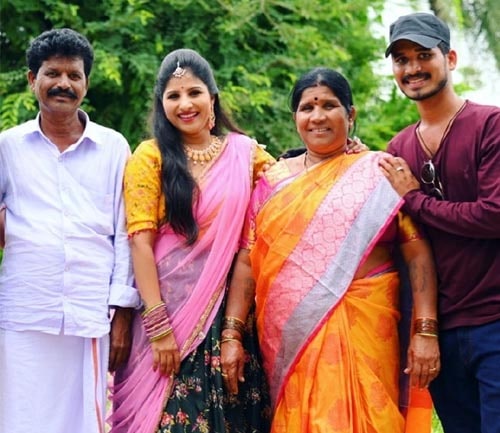 Her Singing career is equally bright as that of her anchoring one. Her parents noticed her wonderful singing spree at a very young age, and she is now one of the experts in the traditional singing genre. Also, she performed for a song Rela Re Rela Re in 2017, for MIC TV. One of the famous songs Bathukamma song is a hit that has bagged millions of likes and views on the official YouTube channel of MIC TV. Not only this, but Mangli also have several devotional tracks released for various Indian festivals like Ganesh Chaturthi, Diwali, Dussehra, Sankranthi, Ugadi and Bathukamma. Even she has shown her expertise in the film industry with her few famous songs.
Physical Appearance
Mangli bears a very soothing feminine personality and has attractive features. Her charming face and pleasant smile have also helped her in gaining prominence in the entertainment world. She is 5'6'' height and weight 60kgs, Her eyes are black, and her hair color is Indian. She is equally fashionable and wears a tattoo on her hand.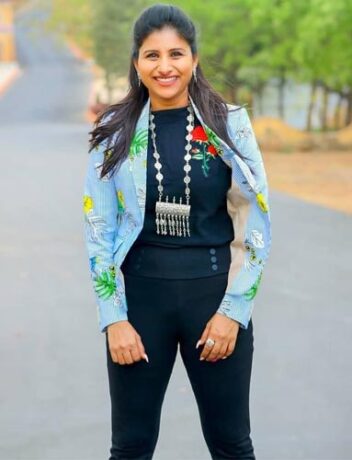 Here are some quick and interesting facts about the star that you would love to go through and add to your information about her.
Less known facts about Mangli
Mangli nurtures hobbies like clicking photos, singing and travelling
Before starting her career, she taught Bharatnatyam and music in-home and at a school.
She always used to bag the first prize in singing in her school.
She got her permanent job offer on the spot from a channel after hearing her guest singing at a special festival.
Though her mother language is Banjara, she is also fluent in Telegu.
She is strictly non-vegetarian
Reports says, Mangli is likely to take part in Big Boss Telegu for the next season.
She is very much active on her social media handles and has millions of followers in the same.
She names Sree Devi when asked about her favourite actress.
She loves eating Hyderabadi Biryani, and Pink and Blue are her favourite colours.
[Also read: Singer Geetha Madhuri Biography]
In conclusion, Mangli is an incredibly talented singer who is sure to go far in her music career. Her voice is unique and beautiful, and she has a lot of potential to make a difference in the world of music. I urge everyone to check out her music and see for themselves what an amazing artist she is.